Details
Perfect for beginners to information security. This course covers key principles for keeping your electronic information secure.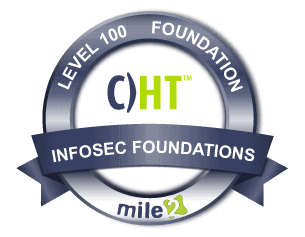 Learn the ins and outs of the hardware that makes an information system work. Topics include servers, computers, and remote devices.
Network knowledge is necessary to secure any information system where more than one device has access to the information. Learn how virtual and server based networks are managed and maintained.
Expanding on Security Awareness 1, this course covers strategies for developing a cybersecurity awareness culture at work and how to manage a breech should it occur.
An operating system is the heartbeat of any information system. Discover the different types of operating systems, and how to manage them.
In this course, you will learn the importance of vulnerability assessments and how they are used to prevent serious cyber break-ins. Lessons include understanding malware and viruses and how they can infiltrate an organization's network.
Looking at a Management track in Cybersecurity? Check out the FOUNDATIONS 200 PACK
Foundational Pack for Future Managers, Responce and Recovery Careers
Security Principles
Cyber Range
Need Something a Little Smaller???
The Fundamentals Every Cybersecurity Professional Needs
Hardware Tech & Operating Systems